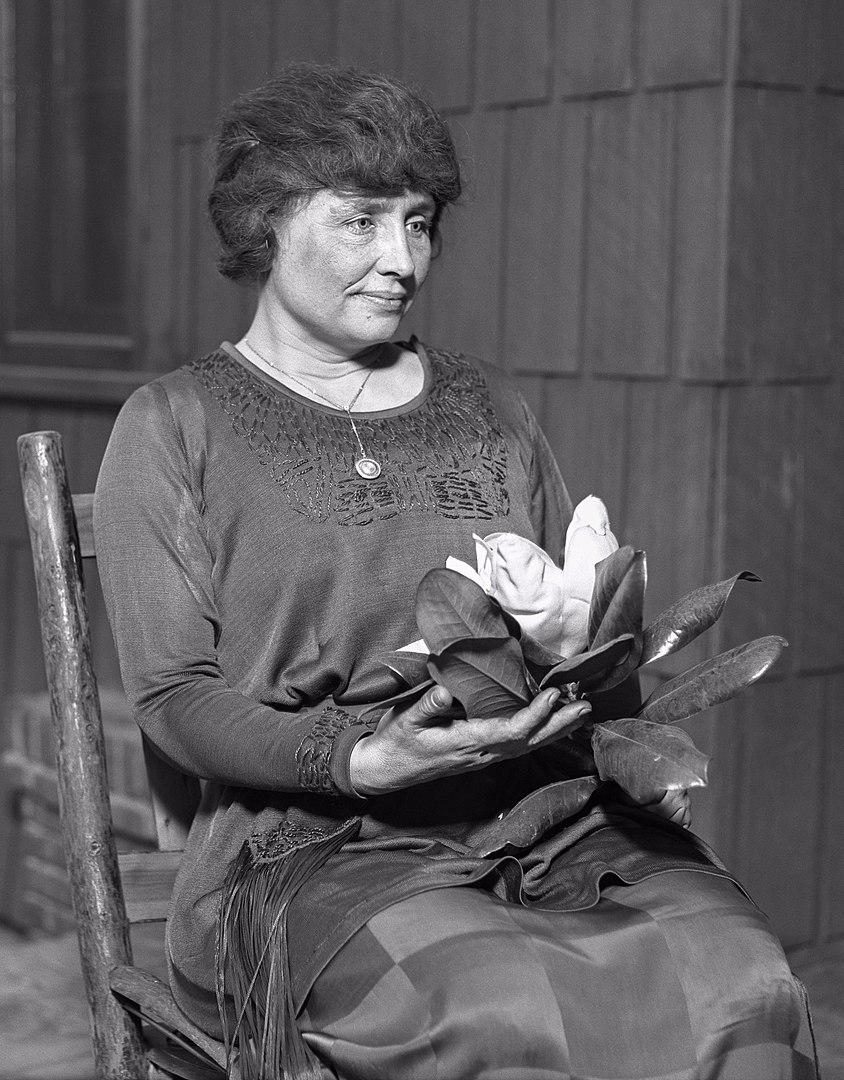 "Helen Keller is NOT real" recently became an argument online on TikTok. This conspiracy theory questions her numerous achievements on account of her being deafblind. 
This damaging social media trend erases not just Keller's very real existence, struggles and achievements, but those of other deafblind people. 
Helen Keller 
Keller was an American author, lecturer, and advocate for the deafblind. She was 19 months old when she became deafblind after an illness. She was sent to the Perkins Institute for the Blind in Boston to receive an education. Her teacher Anne Sullivan found her an intelligent people. She learned to read and write in Braille, and communicate with hand signals. Helen also learned to speak and lip read by placing her fingers on a person's lips and throat. She continued her education and later graduated from Radcliffe College with the highest distinction in 1900. 
Keller cofounded the American Civil Liberties Union (ACLU) with Roger Nash Baldwin and others in 1920. Throughout her life, she wrote multiple books, was a staunch advocate for others, and activist for various social and political causes including women's suffrage, pacifism, socialism, and birth control.
Laura Bridgman 
Fifty years before Helen Keller was born, Bridgman was the first deafblind American who learned to communicate with finger spelling and the written word. A bout of scarlet fever left her without her senses of sight, hearing, smell and taste. She entered the New-England Institution for the Education of the Blind (later renamed the Perkins School for the Blind) in Boston. There, she mastered language skills by using her fingers to read raised letters of the English alphabet. Laura also learned to write via a block-lettering device. When she had completed her education in 1850, she had successfully learned history, literature, mathematics, and philosophy. Not only did she lead the way for deafblind students, but she was also a pioneer for education among girls from working class families.
Robert J. Smithdas 
An American deaf-blind teacher, advocate and author, Robert lost his sight and nearly all of his hearing at the age of 5 to cerebrospinal meningitis. He started school at the Western Pennsylvania School for the Blind, but later switched to the Perkins School for the Blind. In 1950, Smithdas received a Bachelor of Arts degree with the highest distinction from St. John's University. He then went on to New York University and became the first deafblind person to earn a Master's degree. 
Smithdas specialised in vocational guidance and rehabilitation of the handicapped. He was a co-founder of the Helen Keller National Center for Deaf-blind Youths and Adults (HKNC), which provides specialised training and oversees other programs serving the deaf-blind. Along with being a strong advocate for deafblind education and employment, Smithdas was also an accomplished poet, and was later named Poet of the Year for 1960-61 by the Poetry Society of America.
Tony Giles 
Giles was born with a rare eye condition that left him blind since birth. He started losing his sense of hearing at age 4. He became inspired to travel after learning of his father's adventures in the merchant navy. At first, Giles travelled with another person with disabilities. Eventually, he gained the courage and confidence to travel alone and independently. Despite many hurdles, including a kidney disease that resulted in a transplant, Tony has travelled to over 130 countries and writes about his adventures online.
Haben Girma 
Girma is a disability rights attorney, advocate, and first deafblind woman to graduate from Harvard Law School in 2013. She was born to African refugees, and grew up learning to navigate a world designed for people who could see and hear. Luckily, she also met role models with disabilities who inspired her to become an advocate for people with disabilities. 
When her college cafeteria refused to provide her with a Braille menu, she stood up to advocate for access and succeeded. This incident also helped her realise that her work benefited not just herself, but everyone around her. Girma has been named a White House champion of change, written a memoir, won the Helen Keller Achievement Award, taken part in the TIME100 Talks, and profiled on the Forbes 30 Under 30 list.
Where there is a will, there is a way 
History has proven that with the right support and resources, deafblind people can achieve great things in life. Their achievements are not lies or exaggerated stories, but a part of our world.
It's also important to note that there is a spectrum of deafblindness. A deafblind person may not be completely blind and completely deaf. They may have some sense of sight of hearing. With the correct support, they can do amazing things! Rather than denying their successes, we should learn to appreciate the advances already made and support deafblind people who are currently with us. 
References
Biography.com Editors. (2020) Helen Keller Biography. [Accessed: 14 January 2021] Available at: https://www.biography.com/activist/helen-keller 
Charlotte C. (2014) Dr. Robert Smithdas Passes Away. [Accessed: 14 January 2021] Available at: https://www.pathstoliteracy.org/news/dr-robert-smithdas-passes-away 
Danny L. (2019) Haben Girma: My disability has been an opportunity for innovation. [Accessed: 14 January 2021] Available at: https://www.theguardian.com/society/2019/dec/17/haben-girma-deafblind-disability-opportunity-innovation 
David G. (2020) Robert J. Smithdas [Accessed 16 January 2021] Available at: https://sites.aph.org/hall/inductees/smithdas/
Elsa S. (2021) Calling Helen Keller a fraud for her 'unbelievable' accomplishments is ableist [Accessed: 14 January 2021] Available at: https://metro.co.uk/2021/01/17/the-helen-keller-conspiracy-theory-is-ableist-satire-or-not-13895724/ 
Encyclopaedia Britannica. (2021) Helen Keller. [Accessed: 14 January 2021] Available at: https://www.britannica.com/biography/Helen-Keller 
Girl Museum. (2020) A pioneer for the deafblind: Laura Bridgman. [Accessed: 14 January 2021] Available at: https://www.girlmuseum.org/a-pioneer-for-the-deafblind-laura-bridgman/ 
HabenGirma.com. (2021) About Haben. [Accessed: 14 January 2021] Available at: https://habengirma.com/ 
History.com Editors. (2019) Helen Keller. [Accessed: 14 January 2021] Available at: https://www.history.com/topics/womens-rights/helen-keller 
James A. (2019) A Totally Blind And Partially Deaf Traveler's Inspiring Adventures To Over 120 Countries—Meet Tony Giles. [Accessed: 14 January 2021] Available at: https://www.forbes.com/sites/jamesasquith/2019/12/14/a-totally-blind-and-partially-deaf-travelers-inspiring-adventures-to-over-120-countries-meet-tony-giles/?sh=4e81ac9771ff 
James WT Jr. (2020) Laura Dewey Bridgman. [Accessed: 14 January 2021] Available at: https://www.britannica.com/biography/Laura-Dewey-Bridgman 
Julianne P. (2019) Meet Haben Girma, the deafblind woman who conquered Harvard. [Accessed: 14 January 2021] Available at: https://www.nbcnews.com/know-your-value/feature/meet-haben-girma-deafblind-woman-who-conquered-harvard-ncna1040916 
Laura F. (2014) Robert J. Smithdas, advocate for the deaf-blind, dies. [Accessed: 14 January 2021] Available at: https://www.newsday.com/long-island/obituaries/robert-j-smithdas-advocate-for-the-deaf-blind-1.8876877 
Perkins School for the Blind. (2021) Helen Keller. [Accessed: 14 January 2021] Available at: https://www.perkins.org/history/people/helen-keller 
Rhiannon L. C. (2021) Helen Keller: why is a TikTok conspiracy theory undermining her story? [Accessed: 14 January 2021] Available at: https://www.theguardian.com/books/2021/jan/07/helen-keller-why-is-a-tiktok-conspiracy-theory-undermining-her-story 
Tony G. (2021) Tony Giles, Blind Author and World Traveller [Accessed: 14 January 2021] Available at: https://www.tonythetraveller.com/
WikiZero. (2020) Robert Smithdas. [Accessed: 14 January 2021] Available at: https://www.wikizero.com/en/Robert_Smithdas