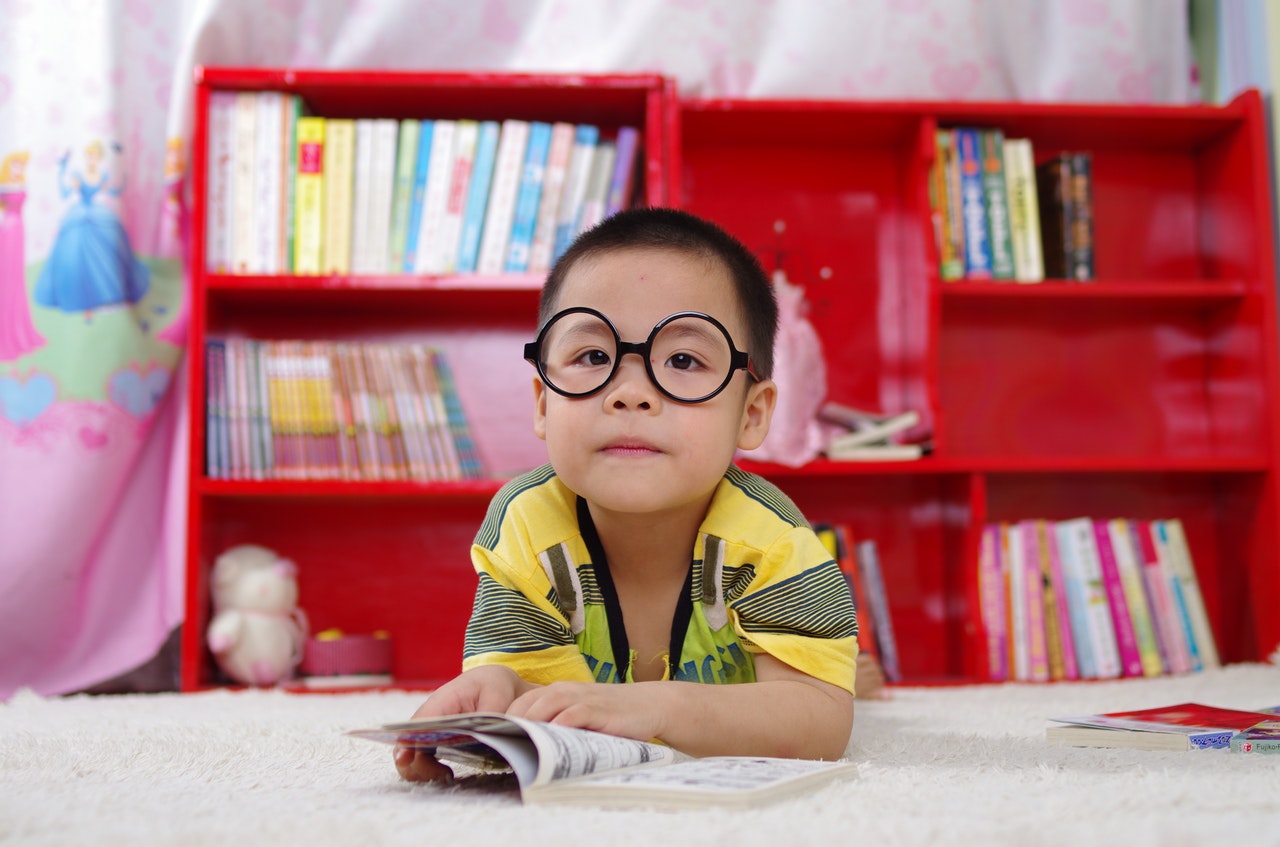 Reading helps a child learn about the world and grow as a person. It's also important for children, abled and disabled, to learn about disabilities and accept themselves and their friends the way they are. It is also important for children with disabilities to see themselves mirrored in the books they read, not as helpless objects to be pitied or symbols, but unique people with their own strengths and weaknesses, motivations and personalities.
Here are some children's books that cover various disabilities. Many of these have main characters with disabilities, and the stories are their stories.
El Deafo by Cece Bell, graphic novel (Deafness)
Author and illustrator Cece tells the story of her own youth, going to school and attempting to make friends while wearing a very powerful but awkward hearing aid, the Phonic Ear. She is finally able to harness its power and dubs herself "El Deafo, Listener for All", finding both true friends and a place for herself in her world.
We're Amazing 1,2,3! by Leslie Kimmelman (Author) & Mary Beth Nelson (Illustrator), picture book (Autism)
In this Sesame Street book, Elmo introduces his longtime friend Julia to Abby. Julia has autism, so does things a little differently compared to other people. But she is also very much the same as other kids, who want to be loved, to have friends, and have fun.
Out of My Mind by Sharon M. Draper, middle-grade novel (Cerebral palsy)
Melody has cerebral palsy; she can't walk, talk or write, but she does have a photographic memory. Her doctors, teachers and classmates dismiss her as mentally challenged, but she's really the smartest kid in her school…and she's determined to let everyone know. This book about refusing to be defined by your disability alone spent two years on the New York Times bestseller list.
We'll Paint the Octopus Red by Stephanie Stuve-Bodeen (Author) and Pam Devito (Illustrator), picture book (Down Syndrome)
Six-year-old Emma isn't looking forward to becoming a big sister at first, but warms to the idea after talking to her father and imagining all the things they can do together. When baby Isaac is born with Down syndrome, the family decides that they can still do all these things, with a little more time and patience. This nook comes with questions and answers writen or children that explain some facts about Down syndrome.
Pinned by Sharon Flake, young adult novel (Amputee + learning disabilities)
This book explores friendship, self-discovery and what it means to be different. Outgoing school wrestler Autumn and shy bookworm Adonis are each struggling with their own handicaps. Autumn has a learning disability that makes reading difficult. Adonis has no legs, unable to walk or dance. Both of them discover that weaknesses can be transformed into assets that can forever change us and those we love.
Naomi Knows It's Springtime by Virginia Kroll, picture book (Blindness)
Naomi is blind, but she doesn't need to see to know that spring has come to her home; her other senses tell her that change is in the air. Even if her neighbours think she's to be pitied because she can't see the blue of the sky, she knows that nothing is lacking within her and her way of experiencing the world is just as valid as anyone else's.
By reading widely, kids can learn about different experiences and perspectives, and also find characters who they can relate to, empathise with, and learn with. Books like the ones we've mentioned here are the key to knowledge and self-confidence in a young person with disabilities.
References and Resources
Terri M. (2017) Find a Children's Book to Explain Disabilities to Your Child or Classmates [Accessed: 13 Dec 2018] Available at: https://www.friendshipcircle.org/blog/2017/08/28/find-a-childrens-book-to-explain-disabilities-to-your-child-or-classmates/
Herndon J. (2017) 5 of the best children's books about disabilities [Accessed: 13 Dec 2018] Available at: https://bookriot.com/2017/10/19/childrens-books-about-disabilities/
Little Parachutes (2017) children's picture books about Disabilities [Accessed: 13 Dec 2018] Available at: https://www.littleparachutes.com/category/health/disabilities/
Scope (2017) Children's books [Accessed: 13 Dec 2018] Available at: https://www.scope.org.uk/support/families/books/children
Chris O. (2017) 7 Books That Help Kids Better Understand People Affected By Disabilities [Accessed: 13 Dec 2018] Available at: https://www.fatherly.com/play/7-books-that-teach-your-kid-about-handicaps/
Jackie P. (2017) Southeast Asian Books about Children with Disabilities [Accessed: 13 Dec 2018] Available at: http://www.bringinguptheparks.com/southeast-asia-books-children-disabilities/
Ashia R. (2017) Empowering Kids Books About Disability: Stories About Inclusion & Disability Rights [Accessed: 13 Dec 2018] Available at: http://www.booksforlittles.com/disability-empowerment/