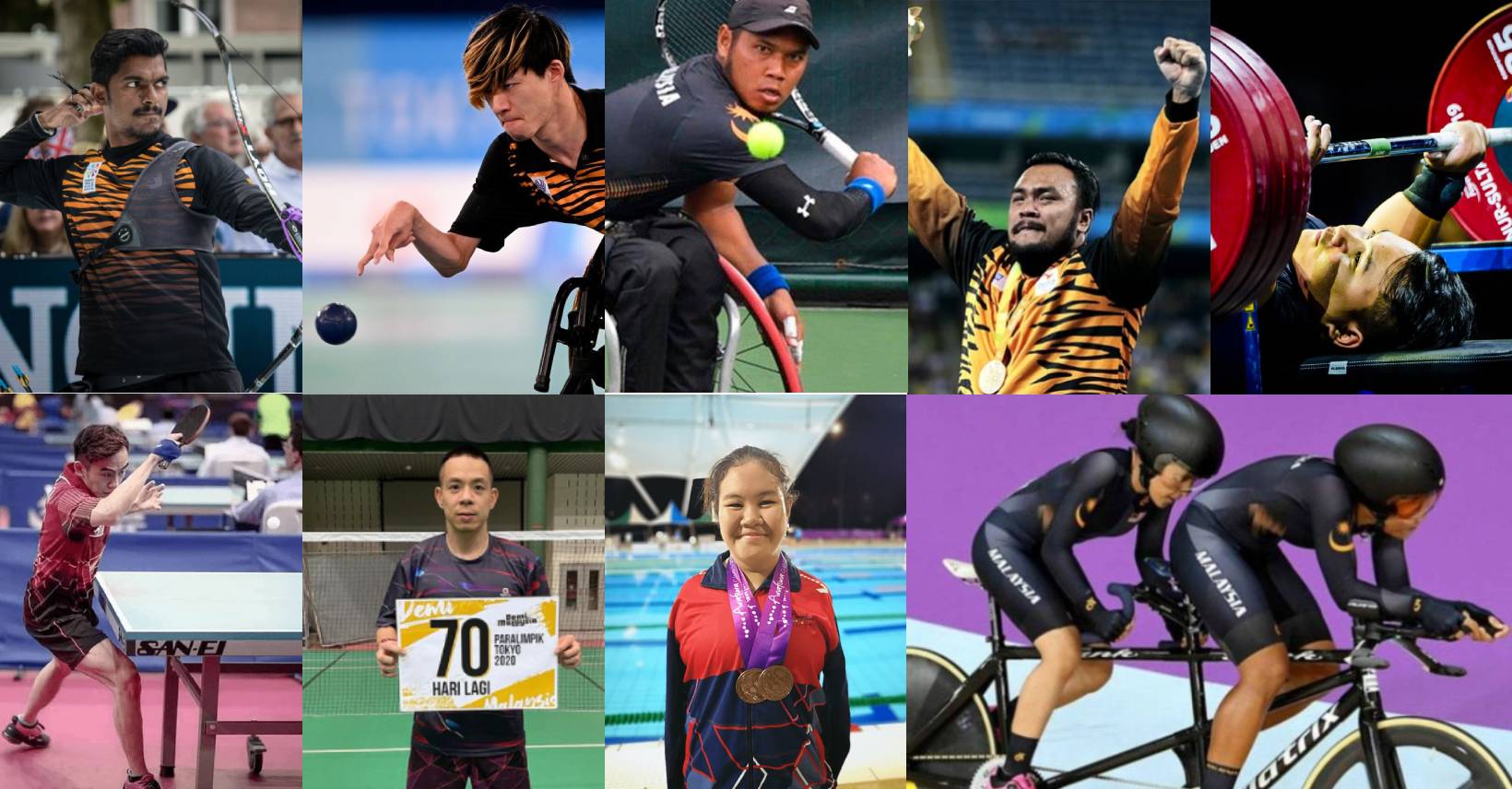 After Malaysia's one silver, one bronze haul at the delayed 2020 Summer Olympics in Tokyo, it's time for our parathletes to shine at the Paralympics. Malaysia is fielding 22 athletes in 9 sports. We profile 9 of them below:
Archery: Suresh Selvatamby
Kuala Ketil native Suresh made headlines in 2019 when he became the new world champion in the recurve men's open category at the 2019 World Archery Para Championships. At that time, he was rated number 35 in the world. His skills and mental focus led him to victory in his first world championship match. 
Suresh will be competing in Recurve Men Open while his compatriot Wiro Anak Julin will be competing in Compound Men Open.
Athletics: Muhammad Ziyad Bin Zolkefli
Muhammad Ziyad was part of the golden trio (together with Mohamad Ridzuan Mohamad Puzi and Abdul Latif Romly) who scored Malaysia's first three Paralympic Gold medals at the 2016 Paralympic Games. His fifth and final shot put throw scored him not just the gold medal, but also a world record of 16.84m. He later broke his own record in London with a throw of 17.29m, so Malaysians can expect a stunning performance from our parathletes on the track and field.
Badminton: Cheah Liek Hou
As a hyperactive child, Liek Hou's mother introduced him to badminton in the hopes that it would help him burn off his excess energy. This proved to be an excellent choice as he showed the talent and drive it took to become world number 1, a title he held for over 10 years. Fans can look out for his controlled net game, as he has been training vigorously for the Paralympics to prove that he remains an unbeatable force.
Boccia: Chew Wei Lun
Malaysia's first sole boccia rep ranks 5th in Asia and 11th in the world, and won bronze at the 6th Fazza Boccia 2019 Championships. While the pandemic and strict SOPs have made training even more challenging in recent months, his determination and love for the game are sure to carry him far.
Cycling: Nur Azlia Syafinaz Binti Mohd Zais and Nurul Suhada binti Zainal
After winning three gold medals and one silver for Malaysia at the Asian Para Games 2018, Nur Azlia and her pilot Nurul Suhada will be worth watching at the Paralympics. Travel restrictions have made it more difficult for the racer-pilot duo to train as a team – but they're ready to race their hearts out for the country.
Powerlifting: Bonnie Bunyau Anak Gustin
A powerlifter like his father before him, Bonnie is out for gold. He quit school in 2015 to focus on his sport, resulting in gold medal wins at his international debut, the 2017 Fazza World Cup, and the 2019 World Championships in Nur-Sultan, Kazakhstan. His talent, focus and determination to make his family and country proud make him a must-watch parathlete in Tokyo.
Swimming: Brenda Anellia Larry
Born without arms, 16-year-old Brenda from Sabah is Malaysia's first female para swimmer at the Paralympics. While initially afraid of the water, her parents' and coaches' encouragement led to her training 4 days a week while studying for the UPSR exams. She made her international debut at the 2019 World Para Swimming Championships in London, where she finished 7th. This young parathlete aims to beat her personal bests in Tokyo as she competes in the 50m backstroke S4 and 50m butterfly S5.
Table Tennis: Chee Chaoming
Chaoming's table tennis journey began at the age of 8. While he made it to the national team six years later, he felt unable to keep up with his seniors. Despite being told to quit, Chaoming instead started training even more intensely. He was even admitted to the ICU several times for overtraining! But his stubborn efforts paid off when he won a gold medal at the 2018 ASEAN Games. Chaoming hopes to bring home a Paralympic gold medal, and has continued training intensely to fulfil this dream.
Wheelchair Tennis: Abu Samah Bin Borhan
Tokyo will be Abu Samah's second Paralympics appearance after his debut in Rio 2016, where he was unfortunately eliminated in the first round. He took up wheelchair tennis after a road accident and hopes to advance further, having since won a gold at the 2017 ASEAN Para Games and qualified for the semi-finals of the Mega Saray Open in Turkey. He hopes to improve his performance in Tokyo, particularly on movement and agility, to do the country proud.
Conclusion
Win or lose, our parathletes are competing not just to bring pride to Malaysia and their fellow Malaysians, but also to test their own limits against the best sportspeople from around the world. As an audience, we owe them our support and encouragement for them to be at their best not just during competition, but throughout and after their sports careers.
References
Astro Awani (2021) Paralimpik Tokyo | Wakil tunggal Boccia negara beraksi hari ini [Accessed: 28 Aug 2021] Available at: https://www.astroawani.com/video-sukan/paralimpik-tokyo-wakil-tunggal-boccia-negara-beraksi-hari-ini-1920242
Astro Ulagam (2019) S. Suresh: From A Life of Tragedy to a World Champion [Accessed: 20 Aug 2021] Available at: https://astroulagam.com.my/lifestyle/s-suresh-life-tragedy-world-champion-100187
Buletin Mutiara (2021) Penang visually impaired cyclist gets RM10,000 incentive ahead of Tokyo Paralympic Games [Accessed: 20 Aug 2021] Available at: https://www.buletinmutiara.com/penang-visually-impaired-cyclist-gets-rm10000-incentive-aHead-of-tokyo-paralympic-games/  
Debbie A. L. (2016) Malaysia Creates History At Rio Paralympics 2016, Bags Three Golds And A Bronze [Updated] [Accessed: 20 Aug 2021] Available at: 
https://www.purelyb.com/be-active/fitness/malaysia-creates-history-at-rio-paralympics-2016-bags-three-golds-and-a-bronze 
Go Sports (2019) Wei Lun bags boccia bronze in Dubai [Accessed: 20 Aug 2021] Available at: https://www.gosports.com.my/news/wei-lun-bags-boccia-bronze-in-dubai/
International Paralympic Committee (2021) Bonnie Bunyau Gustin [Accessed: 20 Aug 2021] Available at: https://www.paralympic.org/bonnie-bunyau-gustin
International Paralympic Committee (2019) Bonnie Bunyau Gustin living his father's dream [Accessed: 20 Aug 2021] Available at: https://www.paralympic.org/feature/bonnie-bunyau-gustin-living-his-father-s-dream
International Paralympic Committee (2021) Muhammad Ziyad Zolkefli [Accessed: 20 Aug 2021] Available at: https://www.paralympic.org/muhammad-ziyad-zolkefli
International Paralympic Committee (2021) Para Athletics Records [Accessed: 20 Aug 2021] Available at: https://www.paralympic.org/athletics/records
Lainey L. (2021) Tokyo 2020 Paralympics: Get To Know The 22 Athletes Representing Malaysia [Accessed: 24 Aug 2021] Available at: https://www.tatlerasia.com/culture/sports/tokyo-2020-paralympics-para-athletes-malaysia-paralympians 
Paralympic Council of Malaysia (2021) Tokyo 2020 Paralympic Games [Accessed: 20 Aug 2021] Available at: https://tokyo2020.paralympic.org.my/index.html
The Smart Local (2021) 10 Malaysian Athletes At The Tokyo 2020 Paralympics Who Are Inspiring Us With Their Skills & Determination [Accessed: 20 Aug 2021] Available at: https://thesmartlocal.com/malaysia/2020-malaysian-paralympians/  
The Sun (2021) New wheelchair boosts Abu Samah's spirits [Accessed: 20 Aug 2021] Available at: https://www.thesundaily.my/home/new-wheelchair-boosts-abu-samah-s-spirits-XD8216473 
World Archery (2019) 's-Hertogenbosch 2019: Stunning Suresh Selvathamby [Accessed: 20 Aug 2021] Available at: https://www.paralympic.org/news/s-hertogenbosch-2019-stunning-suresh-selvathamby
WOWOW (2021) Cheah Liek Hou(Malaysia/Badminton)「WHO I AM」Paralympic Documentary Series [Accessed: 20 Aug 2021] Available at: https://www.youtube.com/watch?v=fHhfNU1vuAc 
Yu Ang T. (2021) "They Told Me To Quit, But I Didn't. I Proved Them Wrong And Now I'm At The Tokyo Paralympics" – Chee Chaoming [Accessed: 23 Aug 2021] Available at: https://weirdkaya.com/now-im-at-the-tokyo-olympics-chee-chaoming/