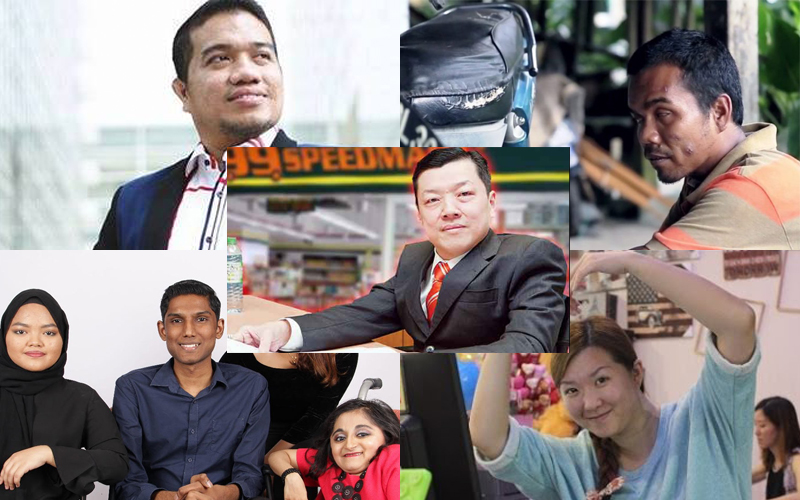 We've all heard stories of entrepreneurs overcoming the odds to be successful. But funds and status may not be the only obstacles in their way. Meet these local handicapped entrepreneurs who didn't allow their disabilities to stop them from achieving success. 
Lee Thiam Wah, founder of the 99 Speedmart chain
You've probably visited a 99 Speedmart or seen one in your neighbourhood. Did you know that the man behind them is wheelchair user and entrepreneur Lee Thiam Wah?
When he was 8 months old, Lee contracted polio and lost the use of his legs. He came from a poor background, and only received formal education up to Standard 6. His determination and drive led him to sell snacks from his porch. He saved up enough money to buy a sundry shop, Hiap Hoe, in Tepi Sungai, Klang. After 5 years, he sold off Hiap Hoe and used the money to open the first Mini Market 99 to serve low-income families. Today, that chain has been rebranded into the  '99 Speedmart' we all know today.
Azhar Ibrahim, the OKU Mechanic 
OKU or "Orang Kuat Usaha" (Hard-working person) is a term used by people who know Azhar Ibrahim, a mechanic with visual disabilities from Perak. He realised how expensive repair parts and charges were after his father had to repair his motorcycle repeatedly. Azhar then came up with the idea of opening a mechanic's shop to repair motorcycles at a reasonable price. He learned how to fix motorcycles from his close friend in just one month. While he cannot see the machine he's working on, Azhar relies on his sense of touch and gives his best on every job.
Bernard Benzamin Nathan, founder of Project DON
Project DON is a talent agency employing persons with disabilities (PWD) as models, actors, singers, and more. It was founded by Bernard Benzamin Nathan, a wheelchair-using entrepreneur who suffers from Spinal Muscular Atrophy. Project DON began from an idea pitched by Bernard and his friends, with the objective of helping PWD get more fair representation in the media. He has since collaborated with major brands like Uniqlo, Toyota and even Selangor Fashion Week.
Coco Tan and her creative ventures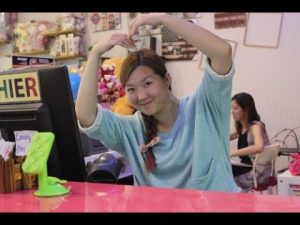 Coco was an outgoing young woman who loved outdoor adventures and parties. Tragedy struck when she and her friend were involved in a car accident on the way to their final exams. The accident left her with multiple fractures in her spine, pelvis and legs, and she went through multiple surgeries to deal with them. She had to use a wheelchair to get around. The once active entrepreneur took six months to finally sit up and even more to stand. Inspired by a video of Nick Vujicic, Coco decided to start over in business. Unfortunately, nobody was willing to hire her at the time. She decided to take matters into her own hands and venture out on her own. Today, Coco owns Cre8tive, which sells stationery, gifts and flowers at two outlets in Damansara Avenue and Kepong Maluri.
Sukur Ibrahim and his gift of the gab
Standing just 100 cm tall, Sukur proves that it's the size of your heart that truly matters. He founded a carpet fitting company back in 2010 and also works as a financial expert with CIMB Wealth Advisors. But that's not all; he is also a motivational speaker who has been invited overseas to do presentations. It hasn't always been a walk in the park for Sukur. He failed in three different business ventures before finding success in his fourth venture! Sukur uses his past mistakes as lessons to push forward, this time better.
Tales of overcoming obstacles and beating the odds
These extraordinary entrepreneurs are out to prove that success comes to those who are brave enough to push through even in the face of adversity. Stories of their success will continue to remain as an inspiration to all of us.
References
Akansha M. (2019) The Man Behind 99 Speedmart [Accessed: 13 Aug 2020] Available at: http://goodnews.com.my/blog/2019/07/05/the-man-behind-99-speedmart/
Anonymous (2018) Five Successful Disabled Malaysian Icons [Accessed: 12 August 2020] Available at: http://mlydisabilitymatters.blogspot.com/
Brenda C. (2014) Five Disabled Individuals Share Their Tale of Overcoming Their Challenges [Accessed: 12 August 2020] Available at: https://www.thestar.com.my/news/community/2014/10/24/inspiring-entrepreneurs-five-disabled-individuals-share-their-tale-of-overcoming-their-challenges/
Dale J.W. (2018) Meet The 21-Year-Old M'sian Fighting To Give OKU Models Their Chance In The Spotlight [Accessed: 12 August 2020] Available at: https://vulcanpost.com/647838/project-don-models-differently-abled-malaysia/
Evanna P. (2015) #IntiFMIdol: Coco Tan [Accessed: 12 August 2020] Available at: https://foundermethod.com/coco-tan/
Raymond S. (2016) 5 Incredible Malaysians Who Didn't Give a Crap About Their Disabilities [Accessed: 12 August 2020] Available at: https://cilisos.my/the-inspiring-stories-of-5-handicapped-malaysians-who-became-successful/
Thermesh V. (2019) This M'sian Modelling Agency Exclusively Features Differently-Abled & Unique Models [Accessed: 12 August 2020] Available at: https://worldofbuzz.com/this-msian-modelling-agency-exclusively-features-differently-abled-unique-models/