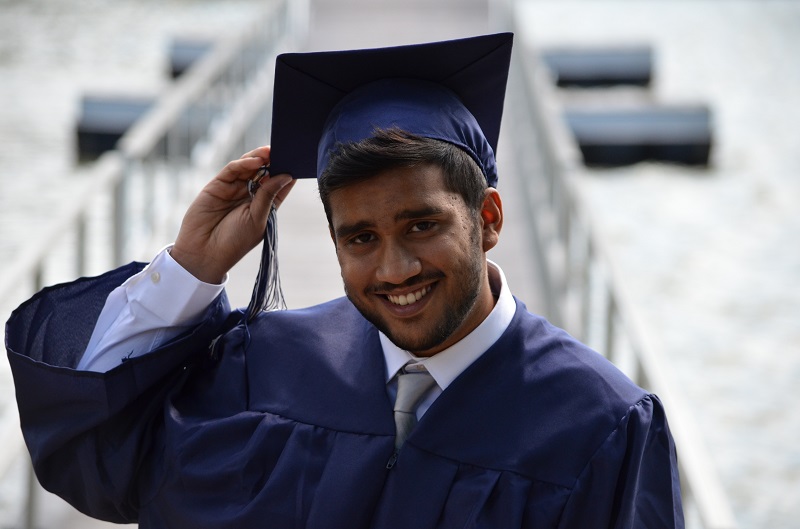 It's important for PWD to pursue higher education as they see fit. The skills and knowledge derived from college and university can help students with disabilities (SWD):
become more employable

pursue wider opportunities

better advocate for themselves
There are a number of Malaysian scholarships and programmes that help SWD enter higher education locally or regionally. We've listed a few of them below. However, take note that all of them require students to have their government-issued OKU card.
1. AUN-DPPnet
AUN-DPPnet, or ASEAN University Network Disability and Public Policy, is aimed at nurturing PWD policy leaders. They believe that PWD policy is best crafted by actual people with disabilities. It is based in Universiti Malaya and supported by The Nippon Foundation.
AUN-DPPnet provides Masters-level scholarships in public policy within their partner universities across ASEAN, along with a disability audit training programme. This program trains SWD to analyse spaces for accessibility purposes. For example, they might see if doorways are wide enough for wheelchair users to pass through freely, or if blind users can navigate a space without obstacles.
The training programme is open to academics, tutors, government staff and the self-employed. The scholarship programme is open to those with an existing Bachelor's degree who have applied to pursue their Masters qualifications. An existing offer letter is highly encouraged.
Both scholarship and program applications are open twice a year. Applications usually close around June and November/December.
You can find out more about AUN-DPPnet at their official website.
2. Shell Scholarships
Oil and gas company Shell provides A-Level and undergraduate-level scholarships for candidates below 18 years of age during their foundation studies. They focus on Engineering, Science and Commercial fields. The program includes opportunities to study, participate in mentoring and internships, and work with Shell after graduation.
Students with disabilities are encouraged to apply, and may apply to do a degree in any discipline. All applicants must perform well academically and show strong leadership skills and active participation in sports, clubs or other extra-curricular activities.
Scholarship applications open from 25 February – 25 March every year. For more details on the application process and requirements, visit Shell's Scholarships page on their website.
3. BKOKU scheme
The Bantuan Kewangan Pelajar Orang Kurang Upaya scheme provides financial aid for Malaysian students with disabilities studying at any institution under the purvey of the Ministry of Higher Education, whether full time, part-time or long distance.
The aid covers a time period ranging from 2 years (certificate-level, postgraduate diploma-level and undergraduate-level) to 4 years (Bachelor / Ph.D) and may cover:
study fees

monthly allowance

resgistration fees

institutional fees such as

library fees

exam fees

sports fees
After registering online, you must apply no later than 30 days after a new semester begins.
Find out more about the requirements and application process on the BKOKU website.
4. Universiti Malaya Fee Reduction Scheme
Universiti Malaya offers a 50% fee waiver on tuition and research fees for postgraduate students with disabilities and senior citizens registered at the university. This scheme is under the purvey of the Institute of Graduate Studies' Scholarship Unit.
To apply for the fee waiver, you may visit Universiti Malaya's website here.
Conclusion
Higher education, future independence and stronger career opportunities are all within easier reach through schemes and programmes like these. If you are eligible for any of these aids, do not hesitate to apply and pursue the future that only you can achieve.
References
Afterschool (2016) Shell Malaysia Local Scholarships [Accessed: 21 Sept 2018] Available at: https://afterschool.my/scholarship/shell-malaysia-local-scholarships
AUN-DPPnet (2018) Welcome to AUN DPPnet [Accessed: 21 Sept 2018] Available at: https://aun-dpp.um.edu.my/
Bahagian Pengurusan Maklumat. Kementerian Pendidikan Malaysia (Pendidikan Tinggi) (2018) Untitled [Accessed: 21 Sept 2018] Available at: https://biasiswa.moe.gov.my/bk_oku/
Universiti Malaya (2018) SCHOLARSHIP [Accessed: 21 Sept 2018] Available at: https://ips.um.edu.my/services/finance/scholarship
Shell (2018) Scholarships [Accessed: 21 Sept 2018] Available at: https://www.shell.com.my/careers/students-and-graduates/scholarships.html