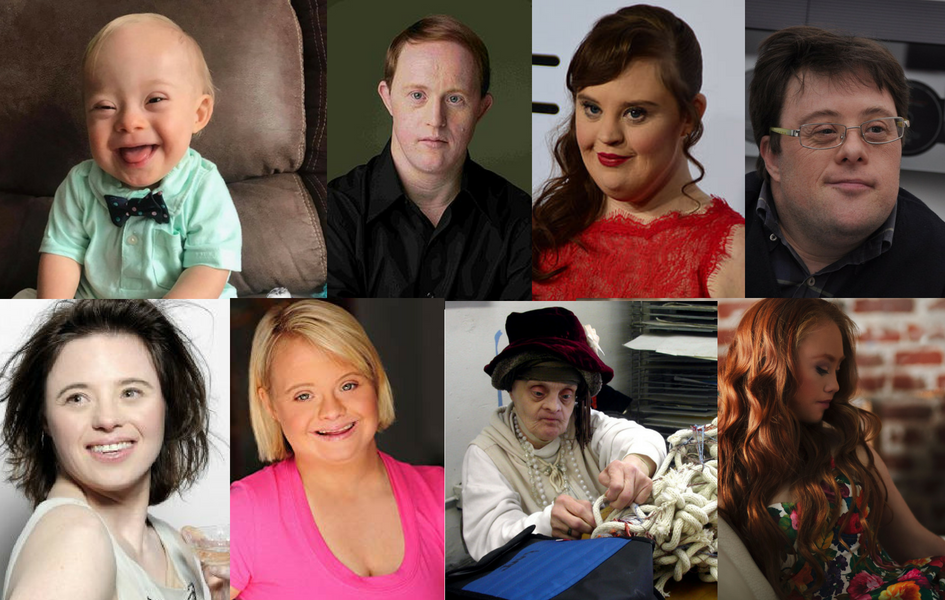 In February 2018, baby food brand Gerber named their new Gerber Baby, whose portrait is used to market and represent the brand. Lucas Warren beat over 140,000 other contestants to become the company's newest spokesbaby – an achievement made all the more notable as Lucas is the first-ever Gerber Baby with Down syndrome.
Down syndrome is caused by an extra chromosome, and results in delayed physical growth and intellectual disabilities. Lucas's father, Jason, told NBC's Today programme that he hoped Lucas's win could "help more individuals with special needs be accepted and not limited". He becomes a part of Gerber's longstanding heritage: recognizing that every baby is a Gerber baby.
Various other personalities with Down syndrome, at various level of disability, have achieved success in their fields. Here we profile a few of the pioneers, creative minds and leaders who have shaped our world and our perceptions of disability:
Chris Burke, actor and folk singer
Chris is best known for his role in Life Goes on as Charles "Corky" Thatcher, one of the first characters with Down syndrome on network TV. As a child, his parents were told to place him in an institution. Instead, they decided to raise him at home and encourage his natural talents. He participated in talent shows and theatre productions through high school. Chris continued to develop his skills by going to night classes, writing scripts, reading about his favourite actors, and auditioning for various productions.
After he performed in the TV movie Desperate (1987), network executives at ABC created the sitcom Life Goes On (1989-1993) with Chris' character as the main star. The first few seasons focused on the Thatcher family's challenges as they tried to integrate their oldest son Corky into abled society. He eventually gets a job, finds a girlfriend (Amanda, who also had down Syndrome), and marries her by the series' end. His role conveyed a realistic potrayal of Down syndrome and changed the way audiences viewed PWD.
Chris has also appeared in various TV shows and movies, including ER, Touched by an Angel, and Jonathan: The Boy Nobody Wanted. He continues to advocate for the National Down Syndrome Society, and tours the US with his bandmates Joe and John DeMasi.
Jamie Brewer, actress
Jamie acted in 4 seasons of American Horror Story (Murder House, Coven, Freak Show, and Cult). She was also the first woman with Down syndrome to walk the red carpet at New York Fashion Week 2015, wearing Carrie Hammer's designs.
As a child, Jamie grew up loving the arts, especially movies and theatre productions. She continued to perform and spoke in PSAs throughout her theatre training. In 2011, she made her television debut in American Horror Story: Murder House as Addie Langdon. The casting call had sought, specifically, a young lady with Down syndrome who could act. She has also appeared in the series Southland, Raymond & Lane, and Switched at Birth, as well as the off-Broadway production Amy and the Orphans.
Jamie is also an active advocate in the Down syndrome community, involved with the National Down Syndrome Congress, American Association of People with Disabilities, Civitan International and Down Syndrome in Arts&Media. While serving on The Arc Governmental Affairs Committee for the State of Texas, she spoke with senators at the Texas State Capitol to pass laws that would abolish the word 'retarded' from state legislation and better recognise the needs of persons with disabilities within the state. Texas now uses the term 'Intellectual Development Disability' in their legislation.
Pablo Pineda – writer, teacher, consultant
Pablo is the first person with Down syndrome to obtain a major degree from a regular university on Spain, though his academic efforts didn't stop there. After gaining his diploma in teaching, he obtained a BA in Educational Psychology while working at the Spanish municipality of Malaga. He went on to become a writer, teacher and Consultant with Fundacion Adecco. He worked with the foundation on developing an integration programme for the inclusion of PWD.
Pablo also acted in the movie Yo tambien (Me too) not for fame or fortune, but to empower people with Down syndrome and increase awareness in society. He considers his disability not as a disease, but 'another personal characteristic'. For his performance, he received the Silver Shell Award in 2009. Pablo also wrote his first book, "El Reto de Aprender" (The Challenge of Learning) in 2013.
Pablo refuses to be used as a symbol for others to slow down or stop efforts to assist others with Down syndrome, and encourages others with the condition to lead independent, fulfiling lives at the same time. Only the future can tell where his drive will take him next!
Sarah Gordy, actress
Born to a British mother and American father, and raised in the UK and US, Sarah later moved to East Sussex where she attended college and became further involved in acting. Her first professional acting job was as Jessica Bains in Peak Practice, and she went on to land many other roles. Her mother and acting coach Jane has said that 'she doesn't really act. She feels very emotional on set. She can't fake emotion, so instead she believes everything about her character.'
In 2010, she was chosen for the role of Lady Pamela in BBC One's new production of Upstairs Downstairs. As the long lost sister of lead character Sir Hallam, part of her role was to illustrate attitudes toward disabilities in the 1930s. Lady Pamela became a regular character in the second series, aired in February 2012.
Sarah is also a celebrity ambassador for Mencap, a charity that works with people with learning disabilities.
Lauren Potter, actress
Lauren is most famous for her portrayal of Becky Jackson in Glee. She has also appeared in Veep, Switched at Birth and reality series Born This Way, and the short film Guest Room which tackles intimacy among couples where both partners are disabled.
Lauren attended dance and acting classes from a young age, before making her debut at 16 in the film Mr. Blue Sky (2007). For her work in Glee, playing a cheerleader under the tutelage of Sue Sylvester, she was nominated for a SAG Award in the Ensemble in a Comedy Series category. She also received the SAG/AFTRA Harold Russell Award at the 2012 Media Access Awards.
She continues to be an active advocate for the rights of the developmentally challenged, and previously served on President Obama's Committee for People with Intellectual Disabilities.
Judith Scott, sculptor
Judith Scott is most well-known for her sculptures made from objects cocooned in various colours of cloth and yarn. Man of her works feature pairs, reflecting her experience as a twin. At the same time, her work was created separate from other influences and cultural input, due to her profound deafness and isolation. Her family placed her in an institution when she was 7 years old. 30 years later, her abled twin, Joyce, was able to arrange for her release. Both sisters moved to California where Judith's interest in fiber and textiles emerged.
Judith's sculptures can be found permanently exhibited at the Museum of Modern Art, New York, the San Francisco Museum of Modern Art, Collection de l'Art Brut, Switzerland, The American Folk Art Museum, New York, and the Museum of Everything, London. She created over 200 sculptures in the last 18 years of her life, from the very small to the nearly immovable.
Madeline Stuart, model
Madeline is the first professional model with Down syndrome. She decided to become a model in 2014, after visiting a fashion show in Brisbane with her mother. She lost 20kgs in weight and attended her first photoshoot. Her modelling career began in earnest in 2015, after her mother's online campaign to secure her a contract. She managed to gain two: one with fitness brand Manifesta, and the other with handbag brand everMaya.
Madeline has since appeared in Vogue, Marie Claire, Cosmopolitan and Woman's Day and modelled at international events like New York Fashion Week, the Sunshine Coast Fashion Festival, Mercedes Benz Fashion Week China, and Runway Dubai. She continues to advocate for inclusiveness and diversity in modelling.
References
Lucas Warren
Chris Burke
Jamie Brewer
Pablo Pineda
Sarah Gordy
Lauren Potter
Judith Scott
Madeline Stuart