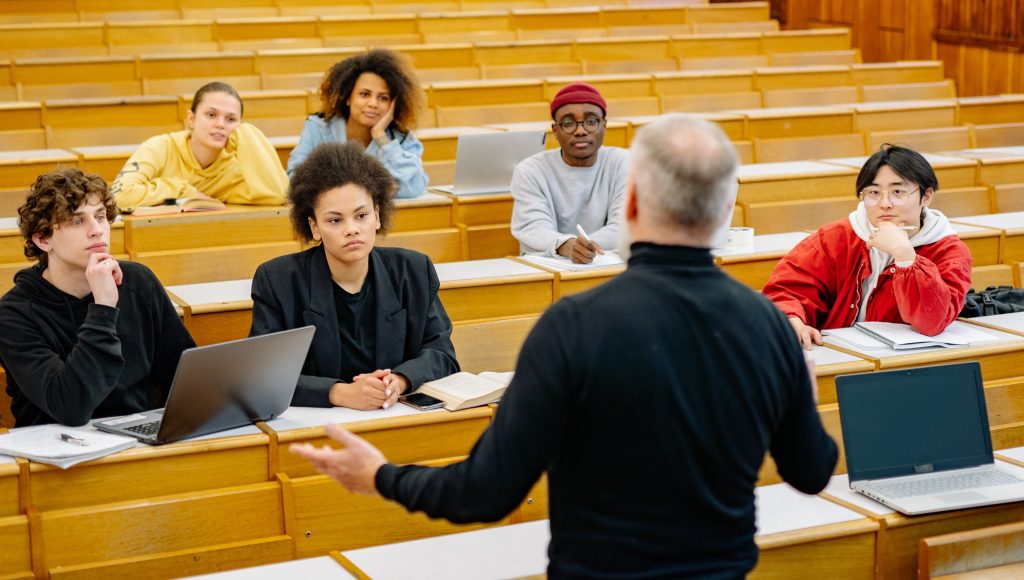 What is universal design and UDL? 
Universal design is the design of products and environments that can be used by as many people as possible, as easily as possible. Simply put, it is designing for accessibility from the ground up. Any adaptations needed are included in the initial design, not added later.
In the early 2000s, a group of educational researchers began adapting the principles of universal design for learning environments. This has led to today's principles of universal design for learning or UDL. 
UDL identifies potential barriers in a learning environment to reduce or eliminate them. It uses technology to create an accessible, engaging learning environment for students with different needs. It considers the differences in students'
background

knowledge

experiences

learning strengths and abilities

interest

level of engagement with learning
Why is UDL important?
UDL reduces the barriers to learning for all students. Our different backgrounds and environments affect our strengths, weaknesses and learning preferences. At the same time, more students with visible or invisible disabilities are pursuing further education. Educators have a responsibility to create a learning experience that is both accessible and provides the same opportunities for success to all students.
UDL addresses the learning needs of different students and takes those differences into account when designing a learning experience. It helps teachers support their students and blurs the line between regular and special education. However, UDL does not remove the need for specific learning accommodations. Instead, it accounts for them in the classroom and beyond.
By providing students with multiple ways to engage with their education, UDL
lets students engage in the ways that benefit them most

encourages students to engage with areas of weakness

reaches out to marginalized students and provides them extra support to keep up with their peers in the classroom. 
What benefits do students get from UDL?
Universal design for learning
provides a learner-centered, inclusive environment that welcomes all learners

increases accessibility to learning so all students have equal opportunities and ways to engage with their learning material

increases student engagement, helping them feel more invested in their own education

enhances academic success
How is UDL applied?
Universal design for learning is based on three principles:
providing multiple means of representation – giving learners different ways to acquire information and knowledge. For example, making a lecture available as a video recording with transcripts.
providing multiple means of action and expression – different ways to demonstrate what the learner knows. For example, demonstrating a principle through an essay, a speech, or a 3-D model.
providing multiple means of engagement – tapping into a student's individual interests, providing appropriate challenges, and motivating them to learn. For example, encouraging students to enter competitions, write self-evaluations, and provide feedback through an anonymous system. 
Based on these three principles, UDL can be introduced into a learning environment in the following ways:
Identifying and addressing learning barriers from the start of the experience

Universal support for all learners, such as flexible learning resources and technologies, support for positive behaviour, and systems to deal with negative ones

Targeted support for students who need more specialised learning opportunities or access to specific expertise

Individualised support for students who need it, such as sign language interpreters, mental health support, or AAC systems

Integrating podcasts, recordings or livestream options for lessons

Allowing assignments to be submitted in video, audio or written formats

Incorporating individual, partner and group activities

Offering alternative ways to access information such as readings, audio transcripts, or videos

Providing information in a digital format that allows students to adjust how the information is displayed e.g. the appearance of text in a document or playback speed for sound or video
Conclusion
The principles of universal design in learning make it easier for students of different backgrounds, ability levels and learning preferences to succeed and flourish. Introducing technology and access to technology in the classroom makes it possible for students to access their learning material in different ways and discover the learning methods that work best for them. By supporting our learners, we encourage a brighter future for all!
References
Alberta Education (2022) Inclusive education [Accessed: 8 Jun 2022] Available at: https://www.alberta.ca/inclusive-education.aspx
Alberta Education (2018) Making sense of universal design for learning [Accessed: 8 Jun 2022] Available at: https://www.youtube.com/watch?v=PQSAQdxnQBY
Amanda M. (2022) What is Universal Design for Learning (UDL)? [Accessed: 8 Jun 2022] Available at: https://www.understood.org/en/articles/universal-design-for-learning-what-it-is-and-how-it-works
CAST (2022) About Universal Design for Learning [Accessed: 8 Jun 2022] Available at: https://www.cast.org/impact/universal-design-for-learning-udl 
Cornell University (2022) Universal Design for Learning [Accessed: 8 Jun 2022] Available at: https://teaching.cornell.edu/teaching-resources/designing-your-course/universal-design-learning
Erin S. (2022) Universal Design for Learning (UDL) [Accessed: 8 Jun 2022] Available at: https://teaching.uic.edu/resources/teaching-guides/inclusive-equity-minded-teaching-practices/universal-design-for-learning-udl/
Waterford.org (2022) Universal Design for Learning: What Educators Need to Know [Accessed: 8 Jun 2022] Available at: https://www.waterford.org/education/universal-design-for-learning/